Browsing Category "lolCats"
This is what I was doing instead of paying attention to my last contracts class: collecting entertaining Cthulhu links.
Let us start, shall we?, with the Elder Gods Dance, which plays the Hamster Dance backwards (how else?) and features dancing Cthulhi. Cthulhus? Cthulhim!
*ahem* it's going to be a long couple of weeks.
Moving on! Next up is Ribbonthulhu, enhancing awareness of Con Funk, a debilitating (to those around them) disease that infects convention centers when they reach a critical mass of geeks. I have to admit that I have not experienced Con Funk but believe that I will have to join the awareness campaign simply because the Ribbonthulhus are so cute. All I need is a boxful of googly eyes & I'm set!
Finally, what you came here for: LOLCthulhu, which is sadly no longer being updated and which was funnier at the beginning. This actually works to its advantage, because you can start at the end and work backward and it just gets funnier!
There are far too many "let me show u them!" but the best is this one: Don't let me show u them!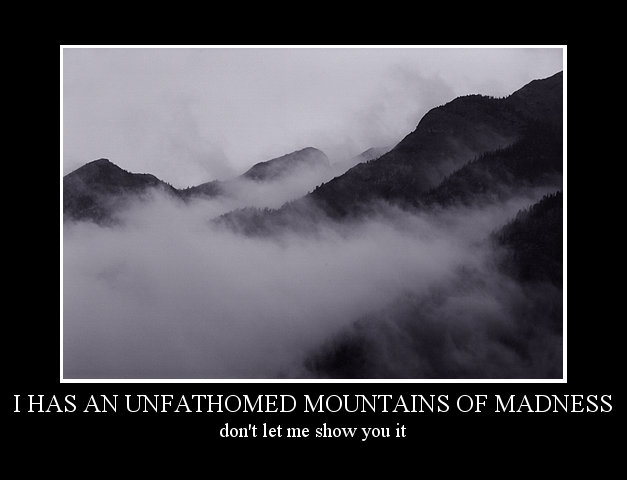 Cthulhu + Tea = awesome. Also? I will never look at "blooming" teas the same way again.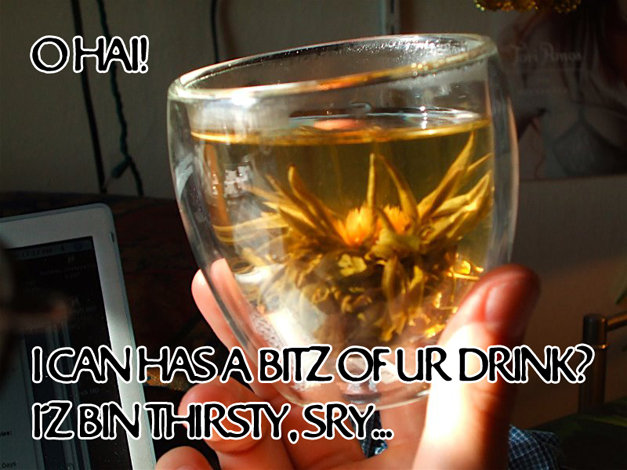 Similarly, Cthulhu Bird is making seagulls scarier for the world at large: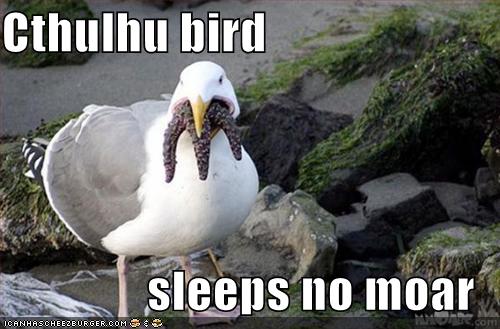 But Cathulhu is the cutest soul eater around & I would happily let it feast upon mine.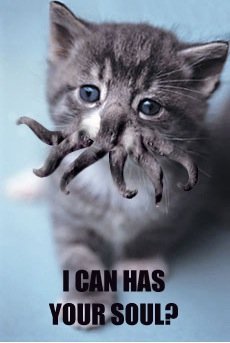 Plus he's asking so nicely!
The Elder Gods want to ensure your entertainment, so answer: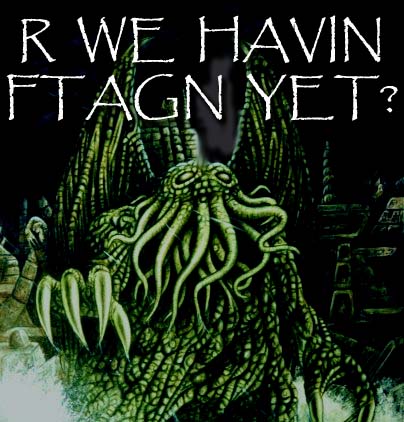 If not, the answer is simple. You will be eaten: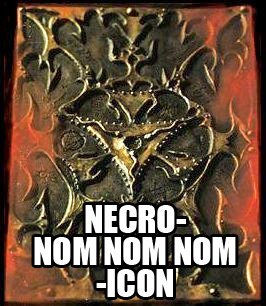 To which you may reply…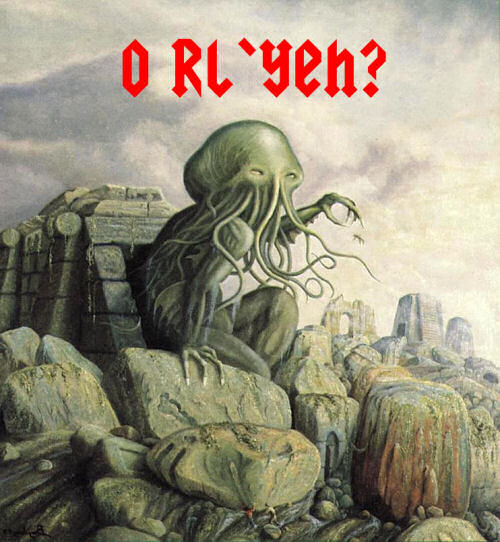 So…done wasting your time but, that you might waste your own time, I shall provide you with some more links of awesomeness:
I have to post this, since it's lolreligion. By now, I'm sure everyone has heard that a particular Christian called others to join in prayer at the bronze bull on wall street to ask god to "shift from the bull and bear markets to what we feel will be the 'Lion's Market,' or God's control over the economic systems". Which itself sounds super creepy. via etal. Now, attentive biblical scholars will tell you that there is a huge difference between worshipping a golden half and worshipping a bronze bull. I mean, they're both metal cows, but that's where the similarity ends. God didn't say anything about bronze bulls. Just trees, golden calfs, & so on. So, they're obviously in the clear. Still, this is funny:
from sf_drama stolen without permission.
First, there was John's dabbling in mapping lolCats onto traditional religious images. Then, the folks over at Cracked gave us some awesome lolReligion interspersed in their 10 Things Christians and Atheists Can Agree On (scroll down for the lolDog in need of a Catholic exorcism). But it didn't stop there, oh no! Someone linked John to Agnostic Kitteh who in turn showed us the lolBible (any translation of the Song of Solomon that includes the phrase "U iz so cute! U iz so hawt!" has to be good). [I skipped the lolPrayer that would be ever so useful if anyone had the cell number of The Divine.] But yesterday, while perusing teh intarnets, I discovered a host (and I mean that in the full, angels-singing, sky-filled-with-heavenly- meaning of the word) of lolReligion. I'm not saying that it's John's fault (or that he deserves the credit), but this is so up our alley here at MoF. I'm just sorry I didn't think of some of these: Read more >>
Courtesy of icanhascheezburger. (Thanks, Joe!)
Three more links, in case the "celing cat" reference went over your head. Also, we've messed around a bit with lolReligion in the past, here at Mind on Fire.
Jana just sent me this link (it's from 2002, but it's new to me, and hopefully to you) to a 160 character, text-messagized version of the Lord' Prayer. This was the winning submission of a contest sponsored by Ship of Fools Magazine:
dad@hvn,ur spshl.we want wot u want&urth2b like hvn.giv us food&4giv r sins lyk we 4giv uvaz.don't test us!save us!bcos we kno ur boss,ur tuf&ur cool 4 eva!ok?
If you find that you need to text more than just the Lord's Prayer, Simon Jenkins (Ship of Fools editor) has condensed much of the Bible for you. Instead of getting thumb cramps and callouses typing (Exodus 20:8-11, KJV):
Remember the sabbath day, to keep it holy.

Six days shalt thou labour, and do all thy work:

But the seventh day is the sabbath of the LORD thy God: in it thou shalt not do any work, thou, nor thy son, nor thy daughter, thy manservant, nor thy maidservant, nor thy cattle, nor thy stranger that is within thy gates:

For in six days the LORD made heaven and earth, the sea, and all that in them is, and rested the seventh day: wherefore the LORD blessed the sabbath day, and hallowed it.
You can use Jenkins' up2 d8 version:
Day7holy.
This isn't as short, but the lolCat translation has inspired more Remy Bible immersion than anything else in the past month or two (thanks to the several of you who let me know about the lolCat Bible):
Remembur caturday An keep holy. U werk 6 dais An finish werk, K? Caturday, u no werk. U An all ur peepz go wrship me. I maded heavenz An erth An see An the stuff that does teh funney hoppey stuffz in An on it – so I make it holy cuz I no werk.
Can u B leev, er, can you believe that the whole Bible is being translated into lolCatese (aka kitty pidgin)? Ah, the miracle of community-sourcing!
Teh blessigs of teh Ceiling Cat b pwn u, lol!