Browsing Category "Links"
This is what I was doing instead of paying attention to my last contracts class: collecting entertaining Cthulhu links.
Let us start, shall we?, with the Elder Gods Dance, which plays the Hamster Dance backwards (how else?) and features dancing Cthulhi. Cthulhus? Cthulhim!
*ahem* it's going to be a long couple of weeks.
Moving on! Next up is Ribbonthulhu, enhancing awareness of Con Funk, a debilitating (to those around them) disease that infects convention centers when they reach a critical mass of geeks. I have to admit that I have not experienced Con Funk but believe that I will have to join the awareness campaign simply because the Ribbonthulhus are so cute. All I need is a boxful of googly eyes & I'm set!
Finally, what you came here for: LOLCthulhu, which is sadly no longer being updated and which was funnier at the beginning. This actually works to its advantage, because you can start at the end and work backward and it just gets funnier!
There are far too many "let me show u them!" but the best is this one: Don't let me show u them!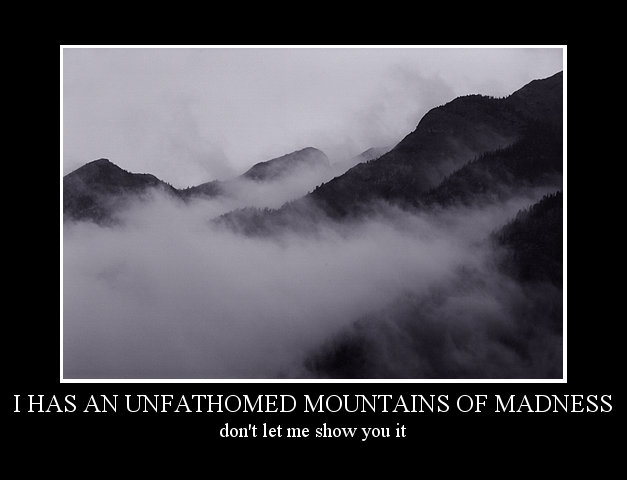 Cthulhu + Tea = awesome. Also? I will never look at "blooming" teas the same way again.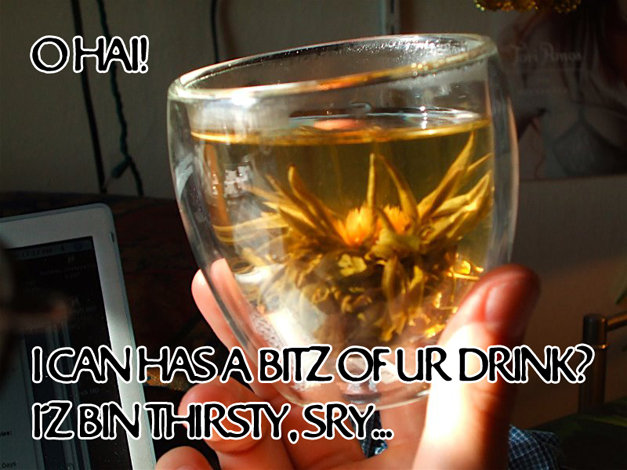 Similarly, Cthulhu Bird is making seagulls scarier for the world at large: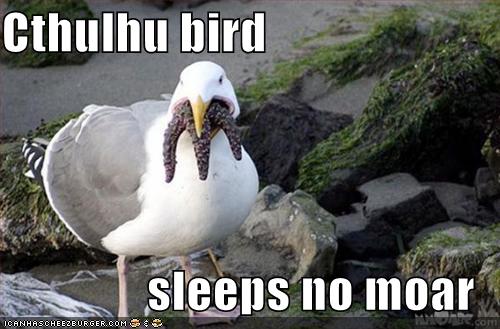 But Cathulhu is the cutest soul eater around & I would happily let it feast upon mine.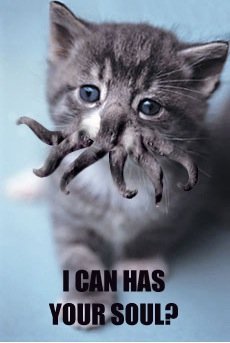 Plus he's asking so nicely!
The Elder Gods want to ensure your entertainment, so answer: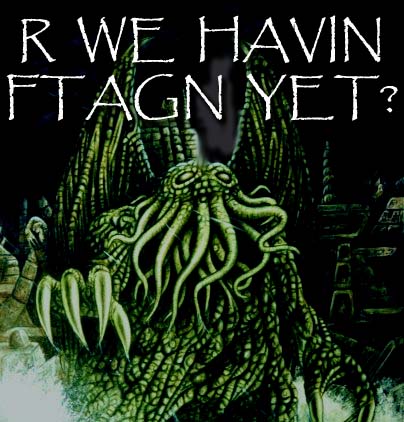 If not, the answer is simple. You will be eaten: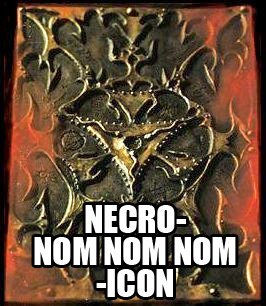 To which you may reply…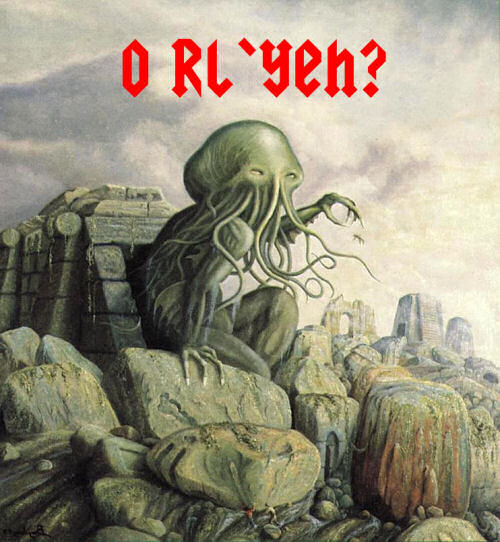 So…done wasting your time but, that you might waste your own time, I shall provide you with some more links of awesomeness:
One of the many reasons I don't post with my IRL name here (I won't say "real", since xJane is just as real in many ways) is because I am attempting to manage my image. In our internet age, I still find it to be very important to not ruffle feathers in a public way (so that I can find a job, even with a company I may not agree with) while at the same time ruffle feathers (feather-ruffling is something most people need more of).
Accordingly, I can say that I am not embarrassed about anything on my Facebook page. (Except, perhaps, who my "friends" are, but that cannot be avoided in many cases.)
Here are some recent articles I found interesting about Facebook: the first (hat tip to @greaterumbrage) is the humorous Facebook survival guide for adults. A great way of explaining "the Facebook" to people who ask. In fact, I may just send this around to some people I know…
Linked to in that article are two more of interest (to me, at least, and enough so that I want to share):
A discussion of "Facebook drunkfail", also a humorous take on the subject (please please please Google "Kevin Colvin", regardless of whether or not you click on and read that link, and read the first page that comes up. I think John bought me a drink from him once at the Edison…). A serious subject, though, and the major reason I (a) post here as xJane and (b) carefully edit my FB page (and (c) have two Twitter accounts).
Finally, this was probably in the news but I missed it because I live in a hole right now (luckily, a fact of life I'm used to), but Obama's speechwriter committed a Facebook drunkfail that made it farther than Facebook. Here's one woman's take on it—one that I happen to agree with.
(I thought about posting links to these on my Facebook page but decided that was too meta for me…)
The Vermont Senate, finding (correctly) that Civil Unions for gay couples fall short of providing equal rights, voted overwhelmingly to approve Civil Marriage for gay couples. The matter still has to go before the Vermont House (and since I'm late to this, may already have gone), where it is expected to pass. The margin by which it was approved is too great for the governor to veto (if he were to try).
As others have said before me, This Is How We Do It!
I did not know anything about Credence Clearwater Revival (or "CCR" as they are affectionately known) until I took a road trip a few years ago with my sister. We had, as the only CDs that were acceptable to all members of the van (my sister, her husband, myself, and their 4 children), two CCR greatest hits albums and one album which we only ever listened to one song from. We drove to Seattle. And then back. With only this music.
And it was awesome. Unlike the U2 album that sustained my class and I for 2 weeks in Africa, I can actually listen to CCR songs. When I do, I am immediately transported back into that 15 passenger van, singing at the top of my lungs along with lyrics that were iffy.
Part of what we did while listening to CCR (over and over and over) was speculate on what the lyrics were and what they might mean ("let the midnight special shine it's ever loving light on me"?!). It would be another 3 years before my sister and I discovered that "chooglin" is the sound that an original VW bug makes. My sister still calls me to ask what certain lyrics are (since I know how to use teh Intarwebs); most recently, we discussed the meaning of "I went down Virginia, Seekin' shelter from the storm. Caught up in the fable, I watched the tower grow." Our conclusion? Drugs. (Interestingly, that video appears to have been beset by the selfsame cause that inflicted the lyrics.)
But, oddball lyrics aside ("a giant doing cartwheels, a statue wearin' high heels"), I love singing along to these at the top of my lungs. This is not my favorite, but it's hard to choose one. And it's one with good memories of trying to figure out what the lines were…

It's like a gospel song—you can't help singing along, whether or not you know the lyrics (whether or not it's even possible to). It comes from deep in CCR's soul & returns to deep inside yours, forces you to tap your feet, crank the volume, and all of a sudden you're seeing Miss Rosie (piece of paper in her hand) and doin' right in Texas. Maybe even clapping; or at least wailing on your air drums.
(My favorite lyrics are "down on the corner, out in the street, livin' in a boat house'll play ya, give a nipple, grab your feet!" that song includes "rooster hits the wacko", something about "a nutface", and "the devil's only zoo". Seriously, listen to that song and see if you can discern English in it!)
When I was a kid, we had the story of Rindercella taped to our refrigerator. I loved reading it. I grew up in a family where the dominant form of humor was puns, including Spoonerisms. While I was first discovering teh Intarwebs, I looked for Rindercella, a candidate for being somewhere online if ever there was one. I never found it (although I did find Round Tuits, one of which my grandmother had).
Until today, when I said "nidmight", a reference to it that all of my family would have gotten, and had to explain about how Rindercella slopped her dripper at nidmight. Then I Googled it & behold! A piece of my childhood to inflict upon my readers, muahaha!
Read more >>
Obama's first YouTube-Side Chat. I'd love to get the audio in podcast, since I have more time to listen than to watch. I'm so glad that he's doing this (I've been saying for some time that the Fireside Chats need to be brought back, to increase trust and transparency; in this case, also to increase hope). I don't think that this first one was very substantive (certainly he can't really have done anything yet), but I do think it's important as a gesture. via.
Education and Religion.
Two stories of interest, each proving the importance of the other.
In the first, an English Catholic bishop blames educated members of the Church for sowing dissent among the rest. He clearly has a low opinion of his own faith, that it is so easily thwarted; or a low opinion of his faithful, that the best of them are uneducated boobs.
[Third story, more of an aside: Letter to the Red States outlining the differences in the voting public for Obama and for McCain (as well as some others. Not sure where this started, I got it in an email. If someone would like to track down the true author, I'll link to that instead).]
The second, a horrifying story in which the Taliban agrees with the Catholic bishop above: education is a threat. Education of women an even greater threat, one that they are actively discouraging by acts of violence and terrorism against the women who teach, the girls who wish to be taught, and the parents and family members of both.
Education is a threat to faith. One Catholic bishop and a bunch of terrified Afghan men agree: only unthinking members of society will stay in their place and allow the power to maintain their stranglehold upon truth and freedom.
On a lighter note, a quick reference guide for religions, the Big Religion Chart. From Aladura to Zoroastrianism, it breaks down religions by name, origins & history, number of adherents, god(s) and view of the universe, human situation & life's purpose, the afterlife, practices, and texts. It also provides helpful links to learn more. Christianity gets one entry, a fact which should sober all those people lobbying to enforce their world view upon the rest of the country (although outliers like Jehovah's witnesses, Mormons, and Unitarians, who are only arguably Christian do get their own entries). I know I've got some additional research to do (after finals!, I have to remind myself) to learn more about religions I've never heard of as well as to see where I fit.
An infomercial for Religion tells you that, if you are easily led, then you need religion! The benefits are priceless and I won't spoil the fun by telling you what they are. via.
Final quick hit: Another (do we need another?) Argument for the ERA.
I'm sorry I've not been posting recently, law school has finally caught up with me and consumed my life. I had to cancel the event that makes the holidays bearable for me (a goose-filled gamer fest) because I simply hadn't the time to prepare and plan it. One of the prospective attendants told me that, while she wasn't glad to miss it, she was glad that I couldn't handle it because it made me seem more human. I'll send her a card when I fail my first semester: "from xJane, now officially a Human."
I have, however, been reading blogs mostly regularly (I didn't yesterday, what has happened to me?!) and have compiled a bunch of links that I wanted to share wanted to dedicate a whole post to each one. I haven't the time to do so, so this is effectively a link-dump. I'm sorry, but Safari thanks you ("There are 7 windows open in Safari, with a total of 32 tabs.").
Read more >>
Synchronized debating. This is exactly why the internet is so important. Why fair use is not just some abstraction but something that affects each of our lives. And, it's funny. So learn more about both candidates and a little something about the wonders of the internet:
I have to post this, since it's lolreligion. By now, I'm sure everyone has heard that a particular Christian called others to join in prayer at the bronze bull on wall street to ask god to "shift from the bull and bear markets to what we feel will be the 'Lion's Market,' or God's control over the economic systems". Which itself sounds super creepy. via etal. Now, attentive biblical scholars will tell you that there is a huge difference between worshipping a golden half and worshipping a bronze bull. I mean, they're both metal cows, but that's where the similarity ends. God didn't say anything about bronze bulls. Just trees, golden calfs, & so on. So, they're obviously in the clear. Still, this is funny:
from sf_drama stolen without permission.
WaPo's On Faith asks its panelists Does religion empower women? This is one of the few On Faiths that I'll probably read each response to. I'm looking forward to the Christian/Catholic answer, which I've found generally centers around "having kids is empowering!!1!" There is some wonderful evidence for non-child-based empowerment which I've yet to hear a priest mention when trying to keep women in their flock.
This is a beautiful story from a favorite blogger, discussing why she gives money to beggars on the street. To religionists who say that morality may only come from the Divine, I give you this story. Love for fellow man need not be based in religion. This is a simple story that affected one person's life in a manner that will affect many others.