As usual, I'm late, but as usual, I'm having a blast picking out Secret Santa gifties for someone I don't know that I don't actually have to give! Over at Shadow Manor, the Caretaker organizes an annual "gift swap" that involves unlimited budgets and lots of images but no actual exchange. It's perfect.
This year, I drew ShellHawk, a ceramicist extraordinaire. I only know about ceramics because I took a 101 course in college, so I know that "cone 10" is a thing and that the stuff she creates is super hard to do. I was going to get her some ceramicky-stuff, but I'm kinda out of my depth, there, and she's probably got most of what she needs already anyway. A little more digging revealed:
every time I read Sunshine, by Robin McKinley, I dream of becoming a baker (in addition to being a very special kind of heroine, who always does the right thing at the right time.), getting up early every morning and creating incredibly addicting confections for an adoring crowd of regulars. Hey, I like baking, so why not, right?
Well, now that I can help with!
She'll start off with some Amish Friendship Bread starter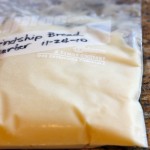 because it's the holidays and it's the perfect, fool-proof baking, for beginners and veterans alike. It's also the baking equivalent of a chain letter and I have so much of it, please let me give it to you, oh gods!
::ahem::

Next up is the real present: a full course of baking at America's Test Kitchen's Cooking School! She'll cover classic breads, pies for the holidays, rockstar-grade desserts, even gluten-free baking (we all have/are that one friend, right?). She'll start with the beginner courses and work her way up to advanced.
Of course, once she knows how to make incredible things (are you hungry yet? I am.), she's gonna need professional-grade equipment. A Blodgett Zephaire oven should fit the bill quite nicely. After all, it's smaller than most kilns and only has capacity for, like 22 loaves at once, so it's nice and small for personal use. (If something is worth doing, it is worth overdoing, I always say.) Plus it's on sale right now, so it's perfect! And, of course, a full spate of Kimball-approved sundries, including half-baking sheets (that's a thing?), parchment paper, springform pans, square baking dishes, and cake pans.
Finally, she will need only the highest-quality ingredients, so a year-long all-you-can-bake subscription to Azure Standard is in order. Bulk orders of organic flours, sugars, baking powders, sodas, fruits, and chocolate, delivered to a drop-off close to her direct from local farms.
As for "always do[ing] the right thing at the right time", well, that will come with practice, but really good recipes usually give good advice about that—just take into account learning how your oven works.
Happy Holidays, ShellHawk! I hope you enjoy your gifts! I'd love to eat your delicious baking any time 🙂
P.S. and because I love these folks, since ShellHawk clearly likes mystery novels, I'm including a year of Poison Pen's Mystery Book of the Month Club. They talk to you about what you like and they will send you a personalized selection, every month, for a year. Like Robin McKinley's Sunshine? Well, they will turn that into a year of similar titles for you to enjoy. With a cup of tea, perhaps, and a freshly-baked good.